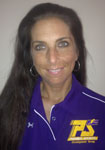 Susan is a certified water instructor by the American Red Cross Association. She has been teaching swim lessons for 6 years and is a certified Water Safety Instructor (WSI) with the Red Cross. She conducts classes for small groups and individuals. Susan tailors her aquatic classes based on the needs of individual athlete
Susan is also a licensed massage therapist.
As a member of the PREMIER SPORTS staff, Susan is responsible for leading all aquatic courses.
A graduate of Indiana University, Susan holds a degree in English and a minor in journalism.
Susan Ferrer has been a dedicated member of the PREMIER SPORTS staff since 2008.