Welcome to Premier Sports Development Group
GOOD athletes train to be BETTER. BETTER athletes train to become the BEST. The BEST athletes train with PREMIER SPORTS.
PREMIER SPORTS is dedicated to the cultivation and total development of amateur athletes. Our training programs are sport-specific and designed to enhance an athlete's speed, agility, power, and technique the fundamentals for becoming a premier athlete.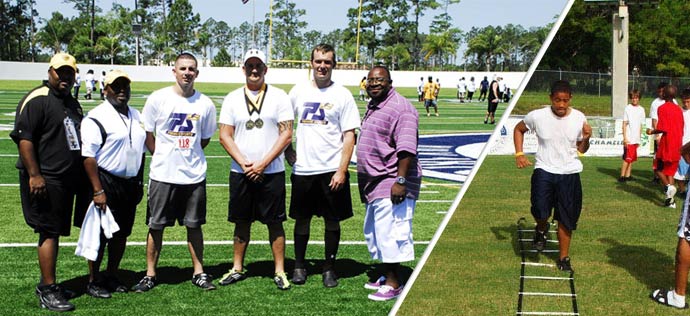 Mission Statement
To develop premier athletes who value and demonstrate sportsmanship, self esteem, leadership ability, and a commitment to team work by strengthening the sports knowledge, athleticism, athletic performance, and competitive capacity for every amateur.
Vision Statement
To be the PREMIER SPORTS performance enhancement choice for those interested in sport-specific training, sports camps, clinics, and community enrichment programs.
PREMIER SPORTS philosophy is S.I.M.P.L.E.
S

_

-

_

Self

_

Premier athletes have self-confidence and are self-motivated
I
-
Intensity
Premier athletes have a high intensity level
M
-
Mental
Premier athletes are mentally prepared for success
P
-
Passionate
Premier athletes are passionate about the game
L
-
Leader
Premier athletes are leaders on and off the field/court
E
-
Excel
Premier athletes excel on and off the field/court