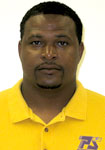 As a strength & speed coach, Reggie is responsible for developing programs for clients to assist them in becoming bigger, faster, stronger and more agile, while building the athletes character. He instills the Premier Sports training philosophy by properly implementing and teaching programs and unique training techniques. Reggie, specializes in sports specific training.
Reggie was a Ohio Valley All-Conference selection in 1999, while attending Tennessee Tech University. After receiving a Business Administration and Major Management Information Systems degree in 2000, Reggie began to coach high school football.   
Reggie has been a dedicated member of the Premier Sports staff since 2010.