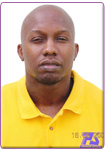 Jermaine King, a certified personal trainer by the National Academy of Sports Medicine (NASM) has over 15 years of training experience. As a member of the PREMIER SPORTS staff, Jermaine is responsible for strength and power training for our clients. Under his guidance, athletes will be trained to become stronger and more explosive as athletes. His strength and power training regiments are tailored for each individual athlete.
During Jermaine's high school years, he was a member of the varsity football and varsiy wrestling teams. As a junior, Jermaine earned the title of Most Outstanding Wrestler.
A graduate of Florida State University, Jermaine holds a degree in accounting and is a Certified Public Accountant.
Jermaine has been a dedicated member of the PREMIER SPORTS staff since 2008.