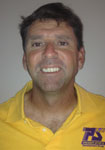 Gabriel Ferrer, an Argentina native, is a certified professional coach by United States Professional Tennis Registry. He has over 20 years of coaching experience. Gabriel has worked as a tennis instructor at the Nick Bollettieri Tennis Academy where he worked under the guidance of legendary coach Nick Bolletteri. As the inventor of "The Tennis Mat", Gabriel has developed a unique approach to coaching and has produced numerous champions: two #1 Jr. players, a #5 ranked ATP player, numerous Davis & Fed Cup players and a Wimbledon Jr. champion. Gabriel has coached players from Columbia, Ecuador, Mexico, Barbados and Romania.
As a member of the Premier Sports staff, Gabriel is responsible forPREMIER SPORTS Jr. Tennis program, where he focuses on skill development and proper techniques. His relaxed approach to coaching builds the athlete confidence and mental preparation.
Gabriel has been a dedicated member to the PREMIER SPORTS staff since 2008.