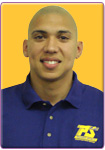 Frankie Romo, a certified personal trainer by the National Academy of Sports Medicine (NASM) is responsible for the development of PREMIER SPORTSathletes. Under his guidance, these athletes will become faster, more agile and more explosive, as players. He focuses on building an athlete's confidence, mental preparation, character, and technique & skill development, which allows the athlete to achieve his/her goals.
Frankie was a high school 2-sport athlete where he participated in varsity football and varsity basketball. He excelled in football and continued to play competitively. Now a member of the Bradenton Gladiators Minor League Football Organization, Frankie continues to excel in his athletic career. He is a 3-time All-Star at tight end for the Bradenton Gladiators.
Frankie has been a dedicated volunteer member of the PREMIER SPORTSstaff since 2008.