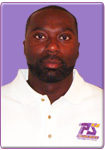 Edrick Sweeting, the President of the Bradenton Gladiators Minor League Football Organization, is responsible for the development of PREMIER SPORTS athletes. Under his guidance, these athletes will become faster, more agile and more explosive, as players. His approach to building an athlete's confidence, mental preparation, and character is second to Sweeting has more than a decade of athletic development experience and has served as Senior Athletic Director for Premier Sports since 2007.
Sweeting earned a Bachelor of Science in Accounting from Bethel College in North Newton, KS.  During his collegiate career, he was a two-sport athlete who excelled in football and track. He was named both a football Second Team All-American and a First Team All-Conference selection in track for Bethel.
He is also a six-time All Star for the Bradenton Gladiators and has led the team to the Minor League Football Championship.
Premier Sports provides training to athletes from all sports and of all ages, gender, and skill levels.   We offer customized programs for the first-time athlete to the elite athlete. Our one-on-one training sessions, small group sessions, and team training sessions are sport-specific and designed to meet the unique needs of each athlete.