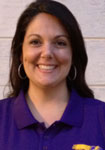 Carolynn Smith is a sales and marketing professional, specializing in public relations and event production. Carolynn's extensive sales and marketing background includes Starwood Hotels & Resorts, Hilton Hotels & Resorts and independent consulting. Carolynn is also the owner of Serendipity Partners, Inc.
Carolynn began her career with Fox Sports Radio, where she served as a radio personality for "The Real Deal Show" a Top NFL Fox sports radio show based out of Jacksonville, Florida. Her role with Fox Sports Radio included: on-air personality, commercial voice-overs, special events, promotions and sideline interviews with NFL players & coaches. Carolynn has also worked as a sports broadcaster for TBCN in Tampa, where she interviewed players & coaches for Tampa universities.
Carolynn earned a full scholarship to attend the University of North Florida women's basketball program. She received her Bachelors of Science in Communications with a minor in Public Relations.
Carolynn brings over 10 years of sales & marketing experience in the hospitality and sports entertainment industries. She joined the PREMIER SPORTS staff in 2011.