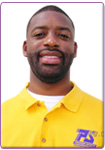 PREMIER SPORTS is the brain child of Bryan Reed.  Understanding the power of sports and its positive influence on youth, he formed Premier Sports to provide amateur athletes access to industry leading, sport-specific training in their communities.
Reed, a former high school standout and Division I athlete, found his true passion and niche in the development of amateur athletes. With an uncanny eye for talent and the experience to teach skill development & proper technique, Reed has a unique gift for refining unbridled athletic talent into premier athletes. 
In his formative years, Reed developed a passion for sports and excelled as a three-sport high school athlete.  Lettering in all sports and serving as a three-year starter for his varsity football team, Reed was well known for his athletic ability and earned an All-State selection and Blue Chip honors in 1992. Reed approached academics with the same passion he gave to sports and was a member of the National Honor Society and Academic Who's Who Among High School Students. Stellar athletic abilities and academic achievements earned him a scholarship from Marshall University.
Reed continued to excel in the classroom and on the field at Marshall.  He was named to the All-Southern Conference Academic Freshman Team and served as a key member of the Marshall University 1992 National Championship team, the 1993 and 1994 National Championship Runner-up teams and the 1994 Southern Conference team. Reed completed his collegiate career at the University of Central Florida and earned a Bachelor of Science degree in Finance.